Our Projects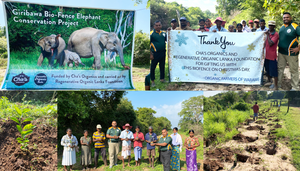 We strive to help communities and nature to operate in balance, to create a truly Regenerative Organic Culture.
To do this we believe that it takes not only one off projects and funds, but a truly deep rooted change that even after a project, would carry on into the future, a truly sustainable system.
This is why we believe that it is important to educate and empower individuals within the Human-Elephant conflict regions and other regions where wildlife has conflict with communities, to take the initiative and make their own change.
Our projects are built on this foundation, our Giribawa Elephant Bio-fence for example involves growing a Bio-Fence of 3000 trees, which prevent Elephants from raiding the farmer crops which in turn prevents conflict, this bio-fence also couples as a secondary benefit for farmers in the form of cash crops as the fence consists of lime and orange trees, which can be sold by the farmers seasonally to gain an additional income.
Such projects get the rural communities engaged in the project, and make sure that they wholeheartedly play a role in the project long-term.
Shown below is an update of our ongoing project in Giribawa, the north western province of Sri Lanka.
Project 1: Giribawa Elephant Bio Fence
Our first project, the Elephant Bio Fence in Giribawa, where we have planted 3,000 citrus plant saplings which will become a fully grown Bio-Fence in the coming 2 years!
Click here to download full report